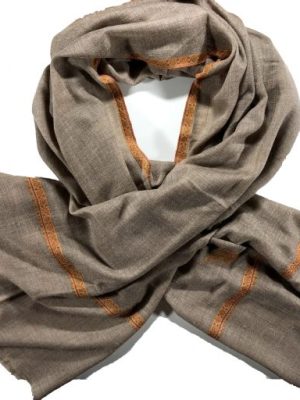 Buttercup Beige
$750.00
Price: $750
Fabric: 100% Cashmere (Pashmina)
Custom order only.
Hand woven with the finest wool from Kashmiri mountain goats, mostly changthangi breed. This breed constitutes less than 0.1% of global cashmere production. These goats produce the highest quality wool fabric. Goats used for pashmina naturally shed their winter coat every spring. One goat sheds approximately 80–170 gram (3–6 ounces) of the fibre.
All processes to produce a fabulous Buttercup Beige pashmina shawl, like spinning, weaving, finishing are meticulously done by hand. Most pashmina shawls are then adorned with beautiful hand embroidery. Authentic pashminas shawls are very expensive because of the expert and meticulous craftsmanship that goes into their production and the rarity of this type of cashmere.
Kashmir pashmina shawls are not only soft and luxurious but will keep you warm during the winter.
Fabric: 100% Cashmere (Pashmina)
Size: 80″/39″
Embroidery: Hand Embroidered. Needle work.